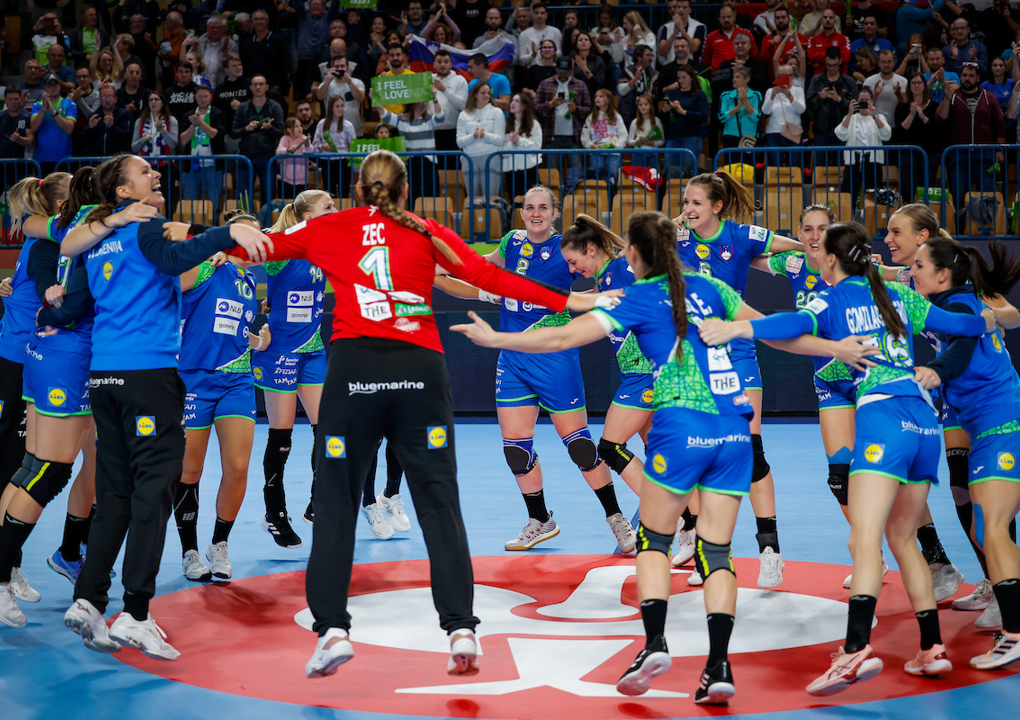 SUMMARY: Slovenia please home crowd; Norway, Sweden, Hungary also win
The Women's EHF EURO 2022 in Slovenia, North Macedonia and Montenegro has thrown off Friday with four matches in group A and B, featuring defending champions Norway and co-hosts Slovenia.
23:00
That is a wrap for day 1 of the Women's EHF EURO 2022! A confidence-booster for Slovenia and expected wins for Hungary, Norway, and Sweden.
Tomorrow we visit Skopje and Podgorica as groups C and D will start. This is the schedule:
Group C, 18:00 CET: France vs North Macedonia; 20:30 CET: Netherlands vs Romania
Group D, 18:00 CET: Montenegro vs Spain; 20:30 CET: Poland vs Germany
For now it is good night and we leave you with some of the best pictures of the day:




















22:51
Want to see the highlights of the four matches from tonight? We have got you covered:
22:29
Day 1 of the Women's EHF EURO 2022 is in the books. Here are the reviews that wrapped up today's play in groups A and B:

Never in doubt after their five-goal half-time lead, Sweden take the points that many expected them to take against Serbia. Nathalie Hagman scores nine.
In the beginning, Norway have their troubles with Croatia. In the end, Norway are just too strong for Croatia. Good start for the defending champions against a potentially tricky opponent.
Nora Mørk scores eight, Henny Reistad seven - and she is awarded the Player of the Match honours.
21:57
Double digits here in Ljubljana: Norway have gone 32:22 up, Croatia have lost this battle - but only in the last 20 minutes.

21:54
She has hit only two out of seven attempts so far, but when Jamina Roberts' shots go in, they look like this:
21:43
Meanwhile in the group B game, Sweden have further increased their lead over Serbia, despite scenes like these...:
21:40
You feel this game is now slipping away from Croatia a bit. The gap has grown to five (26:21) with only 15 minutes on the clock. Can't see Norway giving this away now, especially with such a back line:
21:24
Croatia have quickly leveled the score against Norway after the break (17:17) but find themselves three behind again at the moment: 21:18. Head coach Nenad Sostaric taking a team timeout. Can they stay in touch with the mighty Norwegians?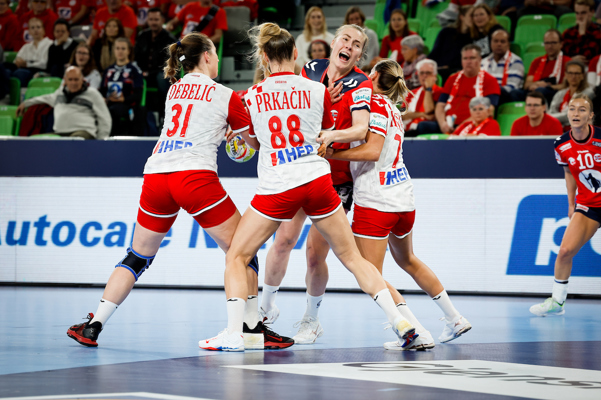 Sweden with a comfortable half-time lead of five goals over Serbia, with six-time scorer Nathalie Hagman contributing almost half of their total production. This is what EHF journalist Courtney Gahan reports, live from the Zlatorog Arena in Celje:
"A stronger start from Sweden did damage for Serbia, as the Scandinavian side pulled away to an early lead that Serbia had to work hard to close. They managed briefly, but as we go to the break with a commanding advantage reopened for Sweden, it looks very much as though the Scandinavian side are on track for a win.
There's no question that the defence and top form from Jessica Ryde have been keys for Sweden, with Ryde on an otherworldly 55 per cent up to the 20-minute mark. Serbia have been forced to play with great patience, but also kept Sweden working reasonably hard at the other end of the court. One difference is that goalkeeper Jovana Risovic was not matching Ryde's performance (before she was replaced in the last minutes of the half), although we know very well she can be a match decider on her own. Let's see what answers Serbia can find in the break."
Norway not sparkling yet and heavily relying on the scoring of Nora Mørk and Vilde Ingstad, each leading with five. Let's hear what EHF journalist Daniela Vekić tells us right from the Stožice Arena in Ljubljana:
"Defending champions and bronze medallists in Ljubljana, a nice way to end the first day of the Women's EHF EURO 2022. It is all about defence between the two, just like both coaches predicted. Croatia struggled to make their lines tight allowing Norway to take an early lead. On the other side, the Norwegians played strong and forced the opponents to make mistakes in attack. Croatia are certainly not giving up, as Ivana Kapitanovic made it possible to close the gap near the end of the first half. Let's see what the next 30 minutes will bring."
21:01
Not sure Nora Mørk has practiced this fall-backwards-but-still-score-through-the-legs-ot-the-keeper goal many times...
20:54
Serbia hanging in there against Sweden, only one goal behind at the moment - also thanks to saves from Jovana Risovic like this one:
20:45
So far, two very similar matches: Norway vs Croatia 6:3; Sweden vs Serbia 6:3. Still only the first quarter done, of course.
20:38
Norway already showing what makes them so strong. They have a slow start against Croatia... but suddenly explode and lead 5:2 within 10 minutes. So much class in this team - even with the many stars missing this time.

20:20
Only 10 more minutes until our next two matches: The record and defending champions Norway take on Croatia in group A in Ljubljana; Sweden and Serbia lock horns in group B in Celje.
For now, enjoy the athmosphere in Celje where co-hosts Slovenia got their EHF EURO campaign off to a very convincing start against Denmark (28:26):
20:16
In the end a decent win for Hungary, but it has been far from easy, as Gréta Márton admits after the game against Switzerland:
This victory is very important for us. Switzerland made a good job and we had to fight for the win. In the first half, we made too many mistakes and let them score some easy goals. In the second part, we netted more easily, and took an advantage of their empty goal.
20:10
Only 20 minutes before the action resumes here in Slovenia... time to read the reviews from the first two matches tonight:
Well done Slovenia, who do it again: upsetting a favourised opponent in their opening match of a major event. Fans in France and Netherlands know what we are talking about. Ana Gros living up to her billing as the big leader of this team, with eight goals and the Player of the Match award.
Congrats to Hungary, the first team to earn two points at the Women's EHF EURO 2022! The recover from a disappointing first half to beat debutants Switzerland by five goals. Katrin Klujber stepped up when needed most and was named Player of the Match. Still, well done to Switzerland, who were in the running for at least one point until the closing minutes.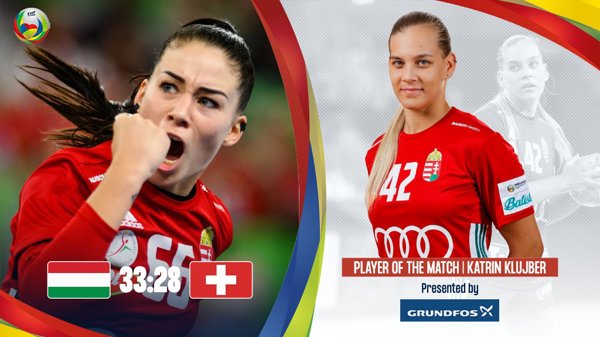 19:23
Meanwhile, Denmark vs Slovenia going down to the wire in Celje. What a game for the home fans!
19:20
Have Hungary turned this around? Just over eight minutes left and they lead Switzerland for the first time this match by more than one goal: 27:24. Katrin Klujber their best scorer with seven goals - however, from 12 attempts...
19:12
Jump once. Jump twice. Score!
19:07
All square over in Celje, as well, where Denmark and Slovenia are currently at 20:20. Leading scorer? Ana Gros, of course, with seven goals so far. 

19:02
Hungary seem determined to hit back in the second half. They have stabilised their defence a bit and have quickly leveled the score against Switzerland (18:18 at the moment). Interesting to see which way this match goes from here.

Well well, what a debut so far for Switzerland! Is that our first surprise in the making? Let's hear from EHF journalist Danijela Vekić here in Ljubljana:
"Two co-hosts of the next EHF EURO, Hungary and Switzerland, opened the Women's EHF EURO group A in Ljubljana and so far we can see they are playing with a full heart.
What a great start for Switzerland at their first EHF EURO. With a strong defence, they made Hungary sweat and are leading at half-time. That's already historic! To see 17-year-olds Nuria Bucher and Mia Emmenegger makes for a great story. Hungary seem to be too nervous in attack, making many mistakes and a good performance by Swiss goalie Lea Schüpbach between the posts is not helping either. They will need to top up their attack if they want to make a comeback and win."
Denmark hold a slim, slim lead over Slovenia at the break. Let's get the expert vision of Courtney Gahan, our EHF journalist on-site in Celje:
"Slovenia were pumped as they entered the court with a great atmosphere in Celje, and it served them well as they played a solid first half against the EHF EURO 2020 semi-finalists and 2021 World Championship bronze medallists Denmark.
The Scandinavian side started in attack with two line players and two backs and alternated between that setup and a full back court throughout the first 30 minutes. But, with a balanced effort all round, Slovenia kept their composure and led the game through the middle of the period. In the last few minutes however, Denmark have started to look stronger, grabbed the edge — and it seems the momentum might be swinging in their favour. Can Slovenia find the reset button in the break and deliver another strong half to keep pace into the decisive final minutes?"
18:27
Both Ljubljana and Celje are witnessing close encounters. In group A, Switzerland are mostly leading Hungary, but not more than by one or sometimes two goals. Similar scenario in group B, where Slovenia are giving 2020 semi-finalists Denmark a hard time. Good stuff!
18:16
Over in Celje, the hosts have an excellent run against Denmark: from 3:1 down, they have gone 8:6 up.
18:11
Switzerland are off to a bright start here in Ljubljana, quickly leading Hungary 5:2 on their EHF EURO debut. Let's see how long the team of coach Martin Albertsen can keep this up.
18:00
Yes, the Women's EHF EURO 2022 has officially started! Enjoy it!





17:49
Slovenia star Ana Gros is getting ready... are you ready, too? The EHF EURO starts in 10 minutes!
17:40
It will all be about groups A and B tonight, but you can already have a sneak peak of groups C and D with the previews from our EHF journalists Adrian Costeiu and Björn Pazen:
17:26
You love handball stats? Great! Because starting now, we will provide you with a "Stat of the Day" from data analyst and journalist Julian Rux. Here is the first:
17:00
One hour to go and the Women's EHF EURO 2022 starts! In Ljubljana we have Hungary taking on Switzerland, in Celje it is Denmark vs co-hosts Slovenia.
Like on every match day, you can join us on the Home of Handball channel on Twitch for serious analyses and light-hearted fun.

14:58
While one of the co-hosts, Slovenia, start their EHF EURO campaign tonight, the other two will have to wait for one more day. That is also the case for North Macedonia, who are going to take on France in Skopje at 18:00 CET.
Let's hear from Simona Madzovska (playing under her maiden name Stojkovska until recently):
We do not have a big bench, we do not have many experienced players, but with our fans behind us, maybe we can pop up some surprises.
14:41
Romania may have seen many changes in recent times, but Cristina Neagu is back at a major tournament after sitting out last year's World Championship. Their opening game tomorrow? Against Netherlands!
This is what Neagu thinks of this group C game on Saturday at 20:30 CET in Skopje:
It is my eighth EHF EURO and I will always enjoy playing in this type of tournaments. Our team is very young, many players changed, but we want to do well and start the competition with a win against the Netherlands.

14:14
If you have not used the Match Predicter on the Home of Handball app yet, you better do so now before the first matches throw off in a couple of hours.
Need inspiration? We asked three stars of the game from outside Europe to give us their predictions. Find out what Eduarda Amorim, Elga Elghaoui and Ryu Eun Hee expect from the Women's EHF EURO 2022.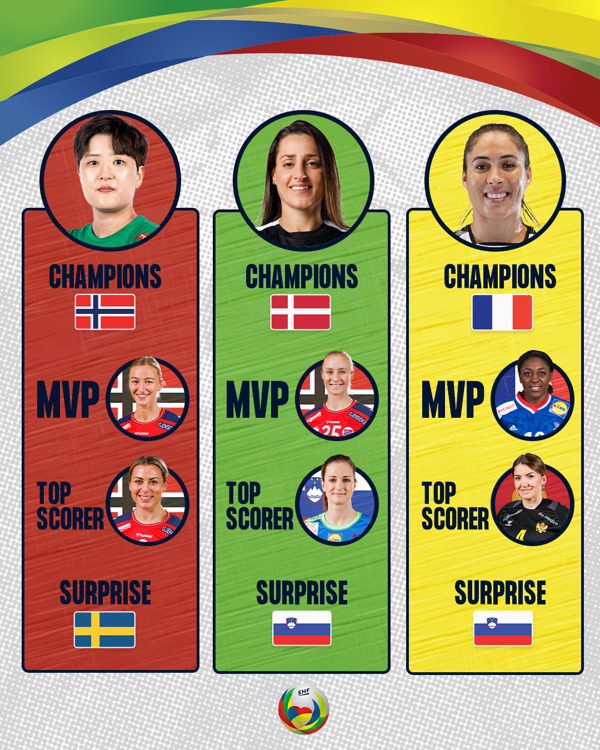 12:28
Extra attention on the opening night of the Women's EHF EURO 2022 will go co-hosts Slovenia. In Celje, they will be up against Denmark – a true test for where Dragan Adzic's team stands.
Slovenia have got themselves some name of 'giant killers' at major events, beating eventual champions France and Netherlands in their opening games of the 2017 and 2019 IHF World Championships. 
But this time, they are not satisfied with just one surprising win, as centre back Nina Zulic explains in this feature by EHF journalist Courtney Gahan:
11:39
For all teams tonight it will be their first match at the Women's EHF EURO 2022. For Switzerland, it will be their first ever match at an EHF EURO final tournament.
The team of head coach Martin Albertsen has qualified for the first time and arrives in Slovenia with an interesting mix of experienced players and talents – like 17-year-old right wing Mia Emmenegger.
EHF journalist Danijela Vekić spoke with the Swiss prodigy for this feature:
10:47
Just over seven hours now before the first matches start here in Slovenia: in group A in Ljubljana and group B in Celje. Play in groups C and D in North Macedonia and Montenegro gets underway on Saturday.
Fans across the continent are eager to watch their heroes throw off their EHF EURO campaign. So, where can they watch the games? Below is the full broadcast schedule in 80 countries and, of course, EHFTV is streaming all EHF EURO matches live worldwide – though geo-restrictions apply.
Also, beIN will be available in the United States and Canada, along with other open territories: Cambodia, Laos, Thailand, Indonesia, Hong Kong, Philippines, Singapore, Malaysia, Australia, and New Zealand.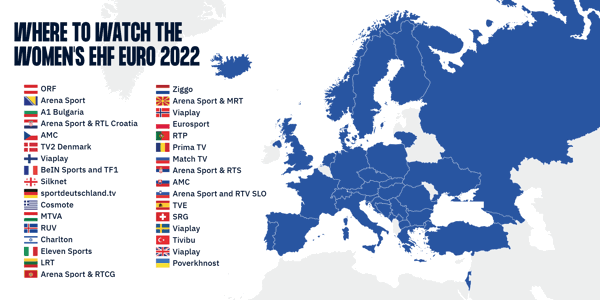 10:30
We have all been counting down the months. Then the days. Now we only count down the hours: the Women's EHF EURO 2022 finally starts today!
Welcome back to the live blog, where we will guide you through all that is happening in Ljubljana and Celje, were the 15th edition of the European Championship throws off tonight. Here is the schedule: