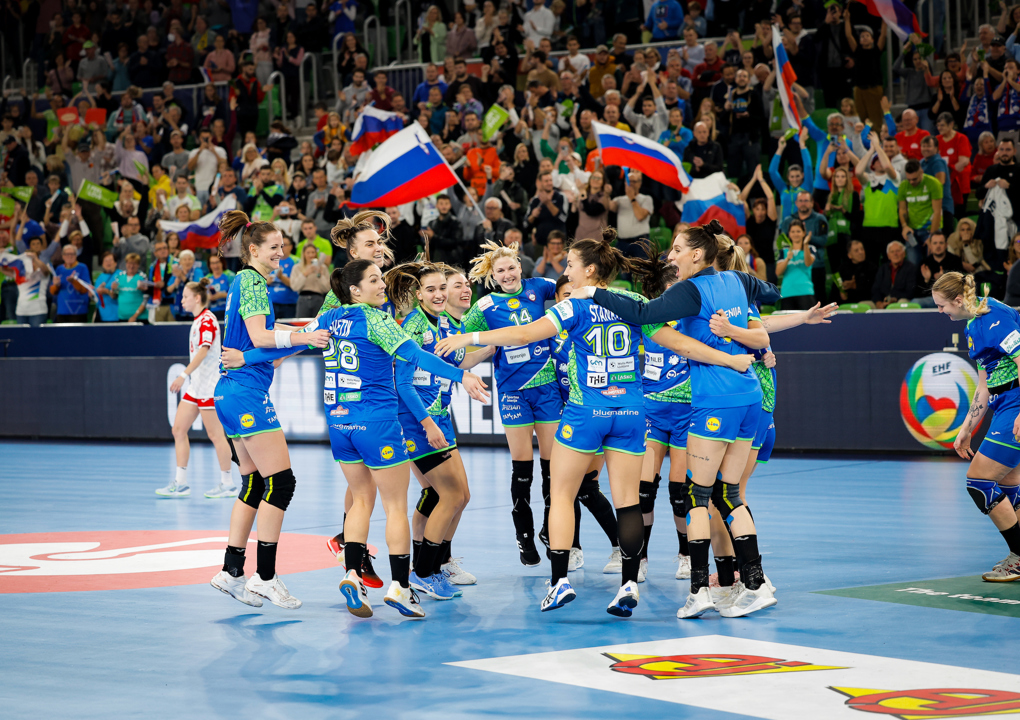 SUMMARY: Slovenia, Denmark open main round with important wins
The Women's EHF EURO 2022 has started into its main round on Thursday, with co-hosts Slovenia and Denmark winning the first two matches in group I in Ljubljana.
Thursday 10 November 2022
23:00
That brings our coverage of the opening day of the main round to an end. The action continues Friday with the first two matches in group II in Skopje:
18:00 CET: Netherlands vs Germany
20:30 CET: Romania vs Spain 
Those two interestering clashes will provide us with another night of handball excitement. Make sure to join us again on the live blog. It is goodnight for now and we leave you with this picture, telling the story of Slovenia's huge win tonight: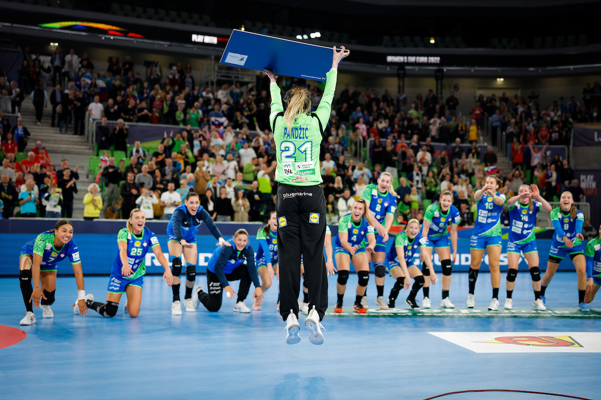 22:51
First results from the Women's EHF EURO 2022 main round. Both teams that advanced from group B win against the teams from group A:

22:42
This was probably the deciding moment for Denmark: Althea Reinhardt denying Hungary an equaliser with less than two minutes on the clock. We know the result: Denmark went on and won by two goals.









22:24
A fascinating opening day of the main round ends with Denmark edging Hungary for two important points. While Hungary are left with only mathematical semi-final chances, Denmark are full in the mix. Here is the match review from EHF journalist Courtney Gahan:
22:14
The win for Denmark has been just as narrow as important. Happy, but also realistic, is the first reaction court-side from Denmark left back Mie Højlund:
It was not always a well played win but this win means so much to us. In defence we were not hard enough. We had a lot of good attacks but we did not finish them good enough.
The match has gone down to the wire: Hungary have seen a late two-goal lead disappear as Denmark just turn it around in the closing minutes and add two all-important points to their account.
21:53
Five minutes left: Hungary 26, Denmark 26. Too close to call!
21:46
What a game for Katrin Klujber! Eight goals, four assists, and just an important steal. Hungary are two up with less than 10 minutes to go: 25:23 (that is 13:9 to Hungary in the second half).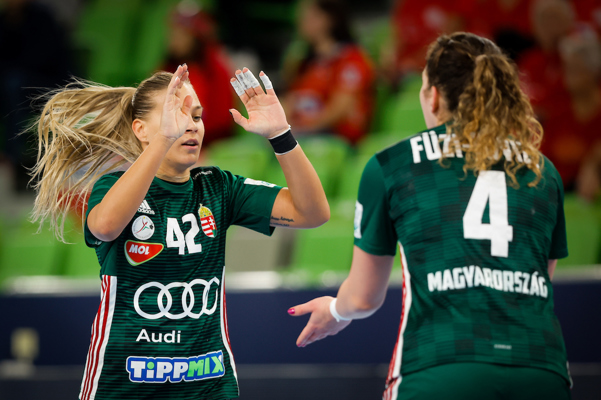 21:41
The intensity of this game in one shot:
21:35
This remains so, so close: 12 minutes into the second half and Hungary and Denmark are all square at 20:20. Predicting the outcome? Impossible!
21:27
The Slovenian team have left the arena.
That doesn't mean their party is over..:
21:23
Another high-light from the first half:

21:15
Hungary might be two behind, but one of the best saves of the first half came from their goalkeeper, Melinda Szikora:
Denmark just edging ahead in the closing minutes as the Hungarian offence finds it more and more difficult to get the ball past Sandra Toft. But this is anybody's game. Let's bring in EHF journalist Courtney Gahan for her vision on the first half:
"Hungary have not beaten Denmark in an official match since 2015, when both squads were quite different from the current lineups. Tonight in Ljubljana, they essentially must win the match in order to keep their semi-final chance alive — and they are rising to the occasion well so far. The question is, can they keep it up?
Hungary struggled a little in their opener against Switzerland, but ultimately earned the two points that would carry them through to this stage. Against Croatia and Norway they went to the breaks behind and could not turn the games around in the second half — and versus Norway, the gap grew significantly in the second period. So what can Hungary achieve in the second half against Denmark? Based on the pattern in the tournament so far, it seems Hungary may be set to stay on zero points in group I."
21:02
13:11 Denmark in the 28th minute. That marks only the very first two-goal lead for either team in this match.
20:55
First team timeout for Hungary. Only some minor guidance needed, as they are keeping up with Denmark well so far; 11:10 down at the moment.

20:52
Years of practice going into a lob like this:
20:48
We are halfway through the first half, but still nothing separating Hungary and Denmark: 8:8.
Fun fact: Denmark have eight different players all scoring once, you don't see that every day!
20:45
So nice to see the teams really embrace the tournament's pay-off Play With Heart. Now Croatia coach Nenad Sostaric, right after the match also Slovenia goalkeeper Amra Pandžic.
20:39
No messing around here: we are just eight minutes into the match and it is: Hungary 5, Denmark 5.
Interestingly, Hungary's Katrin Klujber the only player so far with more than one goal (two, that is), so the scoresheet for the match already includes nine different names.
20:24
Denmark are clearly leading the head-to-head comparison with Hungary: they have won 11 of their 18 encounters so far, including the most recent one: 30:19 at last year's IHF World Championship in Spain.
The last Hungarian win came in 2015 – on Danish soil, beating the hosts of the World Championship 29:22.
20:15
Only 15 more minutes and Hungary and Denmark take the court.
Hungary must be wary of their opponents, especially for the first part of the match, as earlier today we saw this stat from Julian Rux on Denmark's dominance in first halves: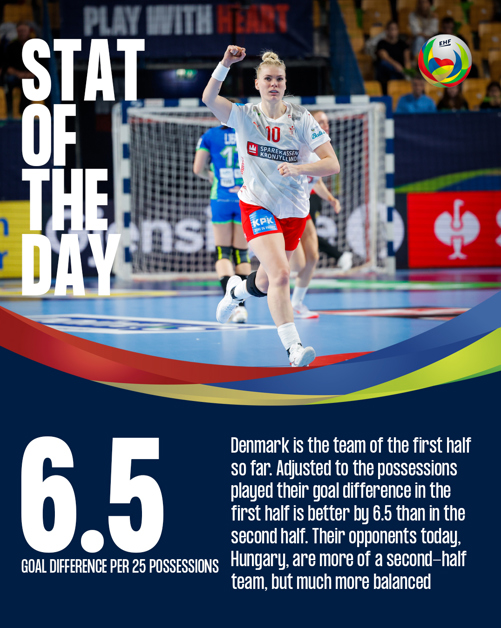 19:50
Home court = dance floor!
Slovenia start the main round in Ljubljana just as well as they started the preliminary round in Celje a week ago: with a strong performance and a big win. Look what winning in front of the home crowd means to them:
19:43
A lot happened in this match, with ups and downs for both teams, but with a highly convincing win for the hosts in the end. Here is the match review from EHF journalist Courtney Gahan:
19:41
Let's hear from Amra Pandžic, the star of the night for Slovenia, and deservedly named Player of the Match after her team's thumping eight-goal win over Croatia:
Croatia are a good team and they play with heart, but we had the bigger hearts today. In the second half our defence was better, that made it easier for me.
19:34
Slovenia have really stepped up to the occasion. Croatia have done well to get back into the match after their poor start and 4:0 deficit, but they have just not found the answer in the second half when Slovenia have been soaring ahead again.
A great opening few minutes, and a great entire second half. Slovenia truly deliver in their first EHF EURO match in the country's capital. What a way to open the main round! Ana Gros with seven goals (but from 13 attempts) the leading scorer, but goalkeeper Amra Pandžic surely the decisive player.
19:23
24:16 Slovenia! We are witnessing the first win from Slovenia over Croatia since 2017, but the first home win since an EHF EURO Qualifier in June 2016 - 24:23 in Celje. For sure, the margin has different proportions this time.
19:14
Last team timeout Croatia! What can head coach Nenad Sostaric tell his team to turn this around? They are 20:13 behind now against hosts Slovenia – who, don't forget that, have missed three penaties en route...

19:10
Number of minutes played in the second half: 16
Number of goals scored by Croatia: 1
Stunning! Slovenia now six goals ahead: 19:13. Is there a way back in this for Croatia?
19:01
Amra Pandžic has two important saves, pulling Slovenia through a two-minute suspension period without conceding. And Elizabeth Omoregie and Natasa Ljepoja step up to make it a four-goal gap again right afterwards: 17:13.
How important is this phase going to be for the outcome of this match?
18:52
Second half is on. Ana Gros, with a penalty throw her fifth goal of the match, quickly brings Slovenia two up again: 14:12.

Intriguing stuff so far! Slovenia quickly four goals up, Croatia clay back into it just as quickly. Since then, the match is in the balance. Valentina Blazevic with five and Ana Gros with four the leading scorers so far.
Let's hear from EHF journalist Courtney Gahan in Ljubljana:
"A dream start to the main round from Slovenia, as they scored four unanswered goals in the opening six minutes before Croatia found the net. Amra Pandzic had a strong opening in goal but, after stopping the first two shots she faced, the Slovenia keeper's rate dropped and Croatia's Tea Pijevic soon caught up with her save tally — just as Pijevic's team caught up on the score board.
While the opening seven minutes were all about Slovenia, Croatia then owned the next eight, turning a score of 1:4 against them into a level game at 7:7. Although it is a one-goal game as we go to the break, the feeling is that the momentum is swinging in Croatia's favour — but Slovenia have played some great second halves at the EURO, so let's see how the next period unfolds."
18:31
Amra Pandžic: great save, great smile!
18:22
First time that we Croatia in the lead: Valentina Blazevic hits her fourth of the match for 9:8.
18:17
Of course, never a Croatia game without some magnetic action from Tea Pijevic:  
18:14
Now we have a match on! Croatia finally get going and in no-time, the gap is reduced to a single goal. Ana Gros, who else?, the best scorer so far with three goals.

18:07
Slovenia take early control with a 4:0 lead in six minutes. Just the start the home crowd has been hoping for! Croatia head coach Nenad Sostaric taking his first team timeout...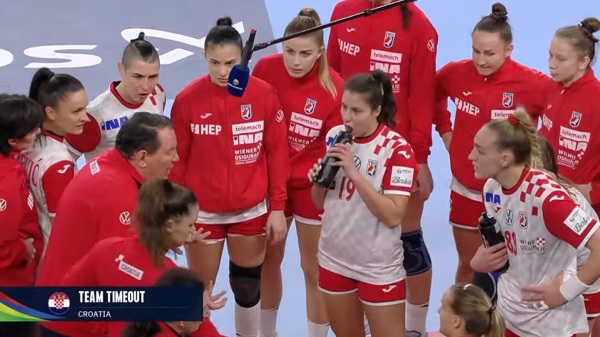 18:00
Throw-off! The main round has started. Enjoy this Balkan derby!
17:44
We have the Top 5 Saves from the preliminary round for you, and Slovenia's Branka Zec in there, on second place. But, of course, Croatia's Ivana Kapitanvic (pictured below while warming up for today's game), has had her fair share of terrific saves, as well.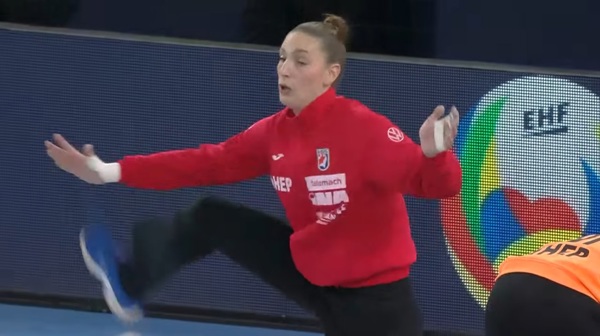 17:32
This game is hard to predict. We have seen in phases of the preliminary round what they are capable of, but neither of the teams were consistent for all three matches so far. Maybe the form of the day will decide again?
A look at their history doesn't make predictions any easier. They have met five times before, with Croatia winning three of them. However, if we leave out their very first match – a Croatian victory back in 2004 – there are four matches left all between 2015 and 2017, and then the balance is two-all.
17:19
It is nice to get the main round running with one of the two co-hosts still going strong in the tournament: Slovenia. They start this phase of the competition with two points, from their brilliant group B opener against Denmark last week.
To underline the importance of this game: tonight's opponents are also on two points. Croatia defeated Hungary, the only team in group I on zero points. Hungary will play Denmark at 20:30 CET.
17:02
Just under an hour now until the main round gets underway here in Ljublana, when hosts Slovenia take on the 2020 bronze medallists.
Meanwhile on the Home of Handball twitch channel, the EHF EURO show is in full flow so watch them at the top of this live blog or under this link.

15:15
Just under three hours until throw-off of the main round here in Ljubljana with Croatia taking on Slovenia. Enough time to listen to the latest episode of the official Women's EHF EURO 2022 podcast.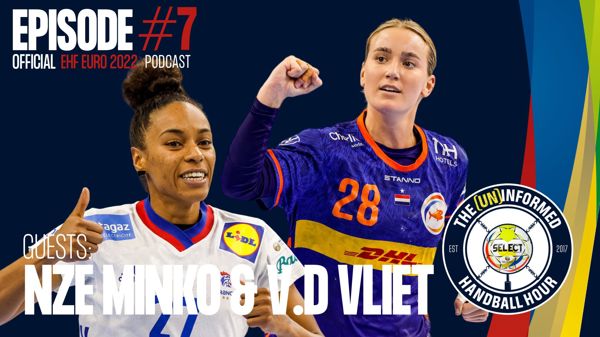 The seventh episode reflects on the preliminary round. We speak about the standout moments of the recent days, including Spain playing the system, Sandra Toft shutting down Sweden, Jovanka Radicevic's emotional final home game, and Switzerland doing too well?
Also, Brian Campion caught up with Estelle Nze Minko and Nikita Van der Vliet after the Group C final in Skopje.
You can listen below or download the latest episode here:
14:33
The Women's EHF EURO 2022 is attracting viewers from across the globe, also well outside Europe. The event is reaching over 80 countries; additionally, coverage with beIN has been secured for the US and Canada, along with other open territories (Cambodia, Laos, Thailand, Indonesia, Hong Kong, Philippines, Singapore, Malaysia, Australia, and New Zealand). Also, EHFTV will not be geo-blocked in any of these.

14:16
Our daily best 'women in sport' image, the cooperation between EHF and its photo agency partner, kolektiffimages, can only feature one specific woman today:

One woman, one nation. Montenegro bowed to her as she bowed to the beloved country, playing her last match at home, proudly wearing number four on her back. 188 matches and 1080 goals scored since her national team debut in 2006. A true inspiration, a role model for many, an athlete who achieved great results and a true lioness at heart. As we celebrate and empower women at this EHF EURO, there is one which cannot be left out. And her name is Jovanka Radicevic!
13:20
This is day 7 of the EHF EURO. Let's recap the first six days with EHF journalist Courtney Gahan, who you might also know from our dedicated EHF EURO newsletter (feel free to subscribe here if you haven't already done so).
Courtney put together her personal top seven talking points of the preliminary round here:
12:57
Just to further whet your appetite for the main round, here are the best moments from the inspirational preliminary round for you:
12:11
OK, one more stats entry here on the live blog. Look at the best save rates from the goalkeepers in the preliminary round... and yes, Norway are in front here as well. Just to confirm it is not just their attacking prowess that makes them into one of the main gold contenders:

11:30
It is half past 11, you know it by now: this is the time for our Stat of the Day, again provided by Julian Rux:
11:14
Three teams have advanced to the main round with the maximum of four points: France and Montenegro in group II, which starts Friday; and Norway in group I.
The defending champions are obviously strong throughout. But in his second piece on data at the Women's EHF EURO 2022, our data analyst and journalist Julian Rux points out that Norway's attacking strength is particularly outstanding:  

10:47
Now let's focus on the main round. We have said farewell to four teams – Switzerland, Serbia, North Macedonia, and Poland – and continue the race to the final weekend of the EHF EURO with 12 trophy hopefuls.
Action starts with 2020 bronze medallists Croatia taking on home crowd favourites Slovenia at 18:00 CET, followed by Hungary against Denmark.
Hungary are the only team in group I that carried over no points from the preliminary round, which means they are under pressure to deliver right from the start of the main round, as EHF journalist Courtney Gahan writes in her group preview for tonight:
10:38
The night also ended with a lot of emotions. Romania grabbed the last main round ticket from group C, but the real drama unfolded as expected in group D. Poland failed to get the point they needed from Montenegro and were forced to wait for the result of the late Germany vs Spain match, which, however, ended in a result that saw these two teams go through – and Poland unfortunately go home.
10:24
What an emotional night it was yesterday, we are not sure if we have any tears left.
First, there was the farewell of Jovanka Radicevic – at least from her home court in Montenegro, as her journey in this EHF EURO is of course far from over. And what a way to say goodbye to her home crowd in Podgorica, with a stunning 12-goal outing against Poland as the co-hosts racked up their third straight win.
We can write a lot about it, but better let Joka herself do the talking:
10:15
After the preliminary round is before the main round!
Welcome back to daily live blog of the Women's EHF EURO 2022. After a thrilling end to the preliminary round last night, we don't waste any time and head straight into the main round. Group I throws off the action in Ljubljana, and this is our schedule for today: