Summer blog: Slovenia finish M20 EHF EURO in ninth place
The Summer Blog on eurohandball.com guides you through all the action at the various Younger Age Category (YAC) and beach handball events taking place this summer.
YAC: on Saturday, Slovenia, Iceland, Poland and Norway record wins in placement matches at the M20 EHF EURO 2022
Iceland have qualified for the 2023 IHF Men's Junior World Championship after finishing 11th at the M20 EHF EURO 2022
all matches are live on EHFTV (geo-blocking restrictions may apply)
22:28
We conclude Saturday evening's coverage with Jakub Alaj's big save in the penalty shootout for Poland against Croatia. Yes, even a match to decide 13th place in handball can provide penalty drama!
We will return on Sunday morning for the build-up to the M20 EHF EURO final 2022 between Portugal and Spain. 
We knew that both us and Faroe Islands had qualified for the World Championship, so maybe it was a less competitive match, Ninth place is good, but not what we wanted. We wish that we were among the first eight.
22:04
For a complete summary of Saturday's four placement matches, including the result of the penalty shootout between Poland and Croatia, Adrian Costeiu's review is now online for you to read.
21:05
Romania have opened their account at the second M20 EHF Championship in Bulgaria with an emphatic victory over Kosovo. In an earlier match, North Macedonia and Ukraine couldn't be separated. 
M20 EHF Championship 2 2022
GROUP B
20:58
With Vid Miklavec, Jure Lukman and Mitja Janc all scoring at least five goals each, Slovenia complete a three-goal win over the Faroe Islands in the battle for ninth place at the M20 EHF EURO. Bogi Hansen and Bjarni I Selvindi also reached the five-goal mark for the Faroe Islands.
20:40
As the match has progressed, Slovenia's shot efficiency has continued to improved. Indeed, it now stands at 62 per cent, and they have extended their advantage to six goals (24:18) after 50 minutes.

20:24
The Faroe Islands now trail 16:12 against Slovenia, so they may need more double saves in the second half if they are to turn this match around.
20:17
Here is the half-time EHFTV graphic from the Slovenia vs Faroe Islands match. Meanwhile, Poland and Croatia are locked at 13:13 at the break in their placement match to decide 13th place.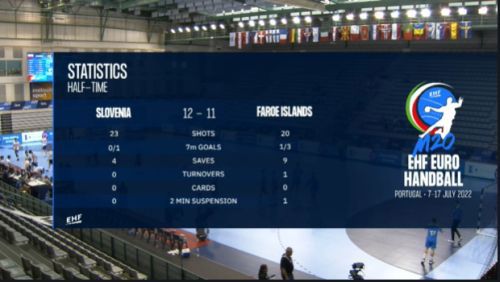 20:11
After a first half in which Alexandar Lacok shone for the Faroe Islands in the early stages, Slovenia goalkeeper Zan Rauh has the final say with a penalty save that denies Sveinur Olafsson. Slovenia have fought back from a slow start to enjoy a one-goal lead at half-time. 
 
19:49
Goalkeeper Alexandar Lacok has made a tremendous start in the first 15 minutes for the Faroe Islands against Slovenia.
With seven saves from 12 shots faced, Lacok is on a 58 per cent save efficiency and his team lead 8:5.
The defence was great today and we were able to score many fast break goals.
With the preparation that the players put in, we really focused on achieving the last World Championship spot after a disappointing game yesterday. I am really happy. We just played much better than last time.
19:33
The 9-10 placement match between Slovenia and the Faroe Islands has just begun on EHFTV. Both teams are assured of their place at the 2023 IHF Men's Junior World Championship, but they will want to finish this championship in Portugal on a high.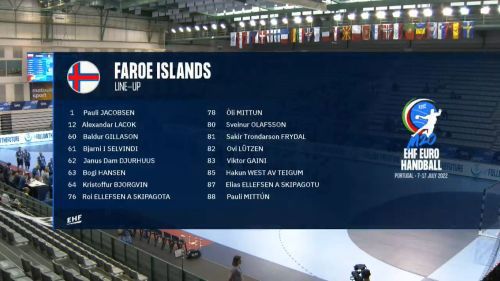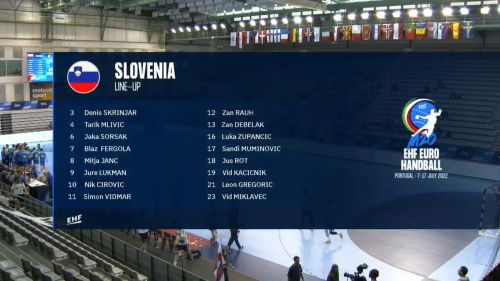 19:02
Iceland's delight at qualifying for next year's IHF Men's Junior World Championship was evident in the post-match celebrations after their comfortable win against Italy.




18:52
Away from the Younger Age Category events, Croatia and Germany have won beach handball gold medals at the World Games 2022 in Birmingham, USA. Croatia won the men's competition and Germany claimed victory in the women's event. Congratulations to both teams on their success on the sand!
18:45
The important news for Iceland after their 45:34 win against Italy is that they will play at the 2023 IHF Men's Junior World Championship.
Meanwhile, in the tussle for 15th place, Norway have beaten Montenegro 30:22. 
18:28
Benedikt Gunnar Óskarsson scored eight goals to finish as Iceland's top scorer and received the player of the match award for his team.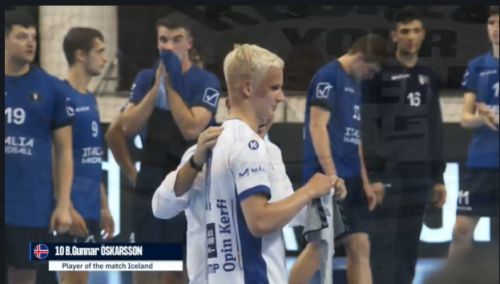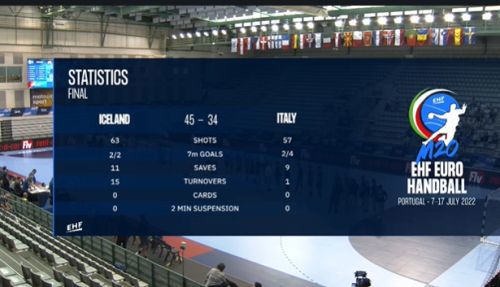 18:25
Iceland have completed a comprehensive 11-goal win over Italy in the 11-12 placement match. In a high-scoring contest, Jóhannes Berg Andrason was the only player for Iceland who didn't score. 
18:08
Iceland have used all three of their goalkeepers in this match. Adam Thorstensen made five saves from 18 shots when he was on court, but Brynjar Vignir Sigurjónsson has stopped two shots from five faced.

17:45 - HALF-TIME UPDATE
Placement match 11-12: Iceland 23:15 Italy
Placement match 15-16: Montenegro 14:15 Norway
17:40
Iceland's wall blocks a direct free-throw effort from Italy's Christian Manojlovic at the end of the first half. At the halfway mark, Iceland have an eight-goal advantage (23:15) and are on course to book their place at the 2023 IHF Junior Men's World Championship.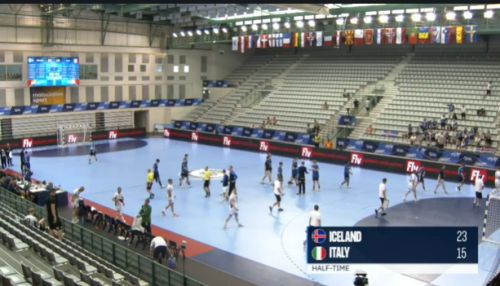 17:30
Italy are determined to persist with the tactic of using an extra attacking player...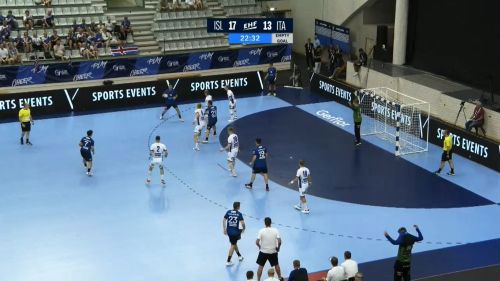 However, Iceland are now taking advantage of the easy opportunities that are coming their way.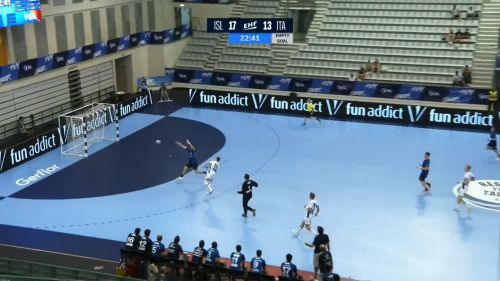 17:12
Italy are using an extra attacking player in every attack. Iceland have already profited from a few easy opportunities that have resulted from when Italy have lost the ball. However, Iceland only lead by two goals after 10 minutes, 9:7.
16:44
While our focus will shortly be on the 11-12 placement match at the M20 EHF EURO between Iceland and Italy, two matches have been played this afternoon in group A of the second M20 EHF Championship 2022 in Varna, Bulgaria.
RESULTS
Group A – M20 EHF Championship 2 2022
16:33
Ahead of Sunday's M20 EHF EURO 2022 final, EHF journalist Adrian Costeiu has taken a look at what has made Portugal and Spain so formidable in this competition. Spoiler: both teams have excelled in attack.  
12:46
We will return to provide coverage of this evening's placement matches from the M20 EHF EURO 2022 at 16:00 CEST.
Placement matches (all times CEST)
15-16: Montenegro vs Norway (17:00)
13-14: Poland vs Croatia (19:30)
11-12: Iceland vs Italy (17:00)
9-10: Slovenia vs Faroe Islands (19:30)
12:28
Is it too early to start looking ahead to the big final on Sunday? Probably not! All the important details about Portugal vs Spain are available in our preview of the M20 EHF EURO 2022 final.
11:40
With Spain's win against Serbia and Portugal's dramatic victory over Sweden in the M20 EHF EURO 2022 semi-finals, you might have missed the two 9-12 cross matches that were played on Friday evening.
Adrian Costeiu's full breakdown of the action from Friday's cross matches can be found below.
11:20
Good morning and welcome to the summer blog for Saturday. The M20 EHF EURO 2022 in Portugal continues with four placement matches this afternoon, but we also have the first four matches from the preliminary round of the second M20 EHF Championship in Varna, Bulgaria.
Saturday's M20 EHF Championship 2 2022 schedule (all times CEST)
Israel vs Luxembourg (12:00)
Greece vs Great Britain (14:00)
North Macedonia vs Ukraine (17:00)
Romania vs Kosovo (19:00)