EHF Champions League
Summary: Barça win but some favourites stumble in round 1
The EHF Champions League Men has returned to action this week with the start of the group phase of the 2021/22 season.
The match schedule featured eight games, including title holders Barça getting their new campaign off to a winning start, beating SG Flensburg-Handewitt 25:21 in the Match of the Week. Some other favourites, most notably Paris Saint-Germain HB and Lomza Vive Kielce, started with a defeat.
Thursday 16 September
23:15
What a great feeling to have the EHF Champions League Men back in action! And what a lovely sight at some venues to see the stands packed with fans cheering for their heroes.
Here ends our coverage of round 1. Hope you enjoyed the games as much as we did! Join us again next week Wednesday and Thursday when Europe's best teams return to the courts for round 2.
Stay safe and until next week!
Traditionally we leave you with the best pictures from the day:
22:52
Read how Barça left the court in Flensburg as winners after the first Match of the Week of the new season:
22:46
Four matches, three three-goal home wins - for Dinamo, Motor, and Veszprém - and one four-goal away win - for Barça.
Tell us in the poll which of these four teams has put the broadest smile on your face tonight:
22:34
For all the talk about the brilliant Gonzalo Perez de Vargas tonight, let's not forget about his counterpart from Flensburg, Benjamin Buric, who was also outstanding:
22:29
Here are the first reactions from both teams right after the Match of the Week:
Perez de Vargas made the difference. When you don't take your chances against Barça, and we had many that were quite good, then you don't win.
We wanted to start the Champions League the best way possible. I think Flensburg had some players injured and we wanted to take advantage of this. That's why we put a lot of rhythm on the game. Until the end we managed to be really focused on defence.
22:18
Solid start to the season from Barça as they take the first hurdle in their mission title defence. Flensburg kept hanging in, got as close as one goal, but in the end there was no doubt about which way the two points were going after this Match of the Week.
And the Player of the Match? Also no doubt, as Gonzalo Perez de Vargas was unbeatable at times, and especially in the second half, he helped Barça to get through several two-minute suspensions without conceding a goal.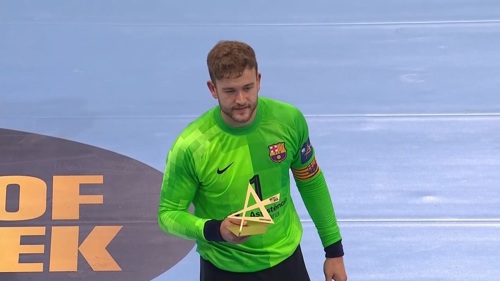 22:14 | RESULT
MOTW Flensburg vs Barça 21:25 (10:13)
22:03
Read what happened in the first three matches tonight:
21:57
Team timeout Barça. Coach Ortega not too happy with his team in the second half. They are still leading in Flensburg, but you cannot call the champions' play very fluent after the break.

21:52
This goalkeeper duel between Benjamin Buric and Gonzalo Perez de Vargas is stunning!

21:29
A lead of 13:10 at half-time of MOTW in Flensburg: the defending champions are in control in their first EHF Champions League game under new coach Antonio Carlos Ortega. Barça have been in front since Dika Mem opened the scoring in the first minute of the match - with his first of four goals so far.
Can Maik Machulla give his players the right hints to surprise Barça in the second half?  
21:23 | HALF-TIME
MOTW Flensburg vs Barça 10:13
21:17
Let's hear from Xavi Pascual after his winning debut as Dinamo coach against Kielce (32:29):
A great victory for us, against one of the favourites of the group. We knew that they have a lot of injuries and when you don't have all players, it is very complicated. A match with a very good level of handball and with a very tense end. For Dinamo, this victory means two points, nothing more. The atmosphere was great, with a symbiosis between fans and players.
21:07
Barça seem the more comfortable side out there so far, but Flensburg stay in touch:
20:54
This MOTW is the 11th time Flensburg and Barça meet each other. The Spanish side won eight of the previous 10 games. Or, in other words: the last time Flensburg defeated Barça was in that semi-final at the VELUX EHF FINAL4 2014!

20:44
Catch your breathe... because the Match of the Week between SG Flensburg-Handewitt and Barça starts very, very soon!
Watch it live on EHFTV with English commentary from Chris O'Reilly.

20:33
And what a return to the EHF Champions League for Dinamo Bucuresti!
Building a big lead in the first half, and holding on to it in the second when Kielce were pressing. It is hard to single out one player, but if you have to, it must be Raul Nantes as the Brazilian netted a flawless 11 from 11.
A promising start for the Romanian side with star coach Xavi Pascual, who were happy to receive the roaring cheers from the fans.

20:26
So, that is three three-goal home wins to start this EHF Champions League night with.
While Motor and Dinamo held on to their (even bigger) half-time leads, the match between Veszprém and PSG really turned upside down after the break. The visitors were still 24:20 up with 16 minutes left, but the Hungarian hosts, backed by a nearly packed crowd in their home arena, found something special for the last quarter.
Yahia Omar with 10 and Manuel Strlek with eight goals were the outstanding shooters for Veszprém; Mikkel Hansen netted seven times for PSG.

20:21 | RESULTS
Veszprém vs PSG 34:31 (13:17)
Motor vs Porto 30:27 (15:10)
Dinamo vs Kielce 32:29 (16:12)
20:14
And indeed, Veszprém have meanwhile managed a complete turnaround and they lead against PSG thanks to goals like this one:
20:01
A clear lead at half-time doesn't mean too much: all three matches can still go either way, with 10 minutes on the clock there is only one goal in it on all three courts!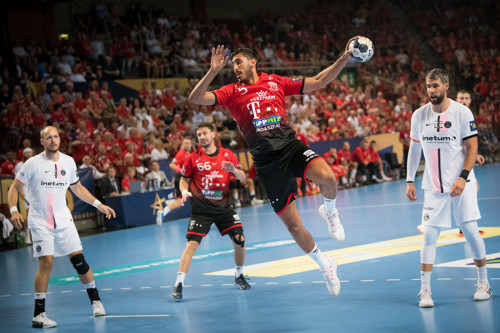 19:49
Oh, this is brilliant stuff:

19:31
The last time Veszprém defeated PSG in the EHF Champions League was on 28 November 2015. That stretch will likely become even longer if the guests from Paris keep playing like this:
19:24
I didn't see that coming: all three matches have one team clearly in the lead at half-time. The biggest lead is for Motor, who are five up on Porto.
PSG were 12:11 behind after 20 minutes but they end the first half on an impressive 6:1 run. That gives new Veszprém coach Momir Ilic something to think about at the break.
Talking about new coaches: Xavi Pascual is starting his stint at Dinamo not only with his right arm bandaged but also with a remarkable four-goal half-time lead (16:12) over the 2016 champions, Kielce.

19:21 | HALF-TIME
Veszprém vs PSG 13:17
Motor vs Porto 15:10
Dinamo vs Kielce 16:12
19:09
Nice first goal for Christian Dissinger in the Dinamo jersey:
18:58
Dinamo 7:3 up against Kielce within 10 minutes. The Pascual effect?!

18:35
The 2020/21 runners-up, Aalborg Håndbold, started their new campaign with an impressive 34:24 win in Zagreb last night. We asked you in a poll on this live blog if you think the Danish side will make it all the way to the EHF FINAL4 again in 2022.
Well, 64% of you do indeed expect Aalborg back in Cologne!
Here is how you all reacted: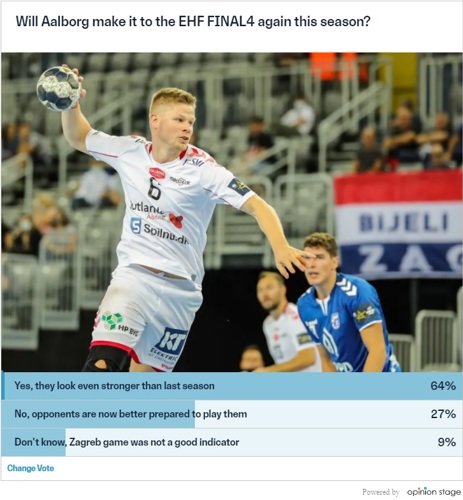 18:23
And completing the trio of 18:45 CEST matches is the duel between the two-teams-which-everyone-expected-to-have-won-the-EHF-Champions-League-by-now-but-they-still-haven't: Telekom Veszprém HC and Paris Saint-Germain HB.
At the start of each season, their fans ask themselves: is this finally going to be Veszprém's / PSG's year? And 2021/22 is no exception. Both sides will be eager to get off to a good start tonight.
Veszprém will do so with a new coach on the bench, former great Momir Ilic, who replaced David Davis and who has already won the first prize of his coaching career, triumphing in the recent final of the SEHA League.
Ilic said earlier this week:
"...We are playing a very tough opponent, with the name of Paris SG. We are playing at home, in front of our fans. Our form has been improving lately. We are expecting a full house with our fans on Thursday, and we hope that with their help and support, and with a strong performance, we can win our first EHF Champions League match of the season..."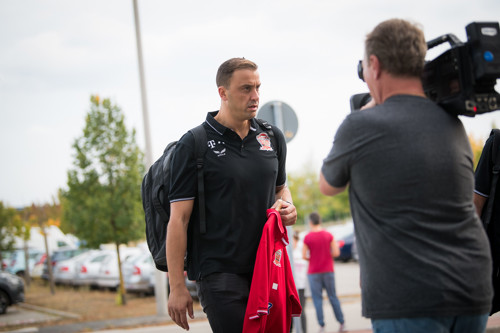 18:14
In Zaporozhye, Motor and Porto will start into their season in half an hour.
Both teams went out in the play-offs last year. Motor have reinforced themselves with a EHF Champions League winner: Jonas Truchanovicius, arriving from Montpellier.
And Porto are coming off their heartbreak season, and who knows what could have happened if they had stopped the run of Aalborg in the play-offs...
But what, if... doesn't count in handball.
17:58
Of course, we dive deeper into the MOTW once we get closer to throw-off. But before the big one we have enough excitement coming up to keep you entertained until 20:45 CEST.
There are three matches starting at 18:45, let's take a look at each of them.
First of all, the first ever meeting between Dinamo Bucuresti and Lomza Vive Kielce.
Dinamo return to the EHF Champions League after their rather disappointing season in the EHF European League, where they failed to get out of the group phase. But times have changed in Bucharest - and the most notable newcomer will not run on, but stand next to the court: coach Xavi Pascual. Can the man who led Barça to 60+ trophies in the last 12 years already put his stamp on Dinamo?
And Kielce? The 2016 champions were bitterly disappointed that HBC Nantes kept them out of the EHF FINAL4 last season. The Polish side will start a new attempt full of ambition tonight. Their most notable newcomer? Dylan Nahi from PSG!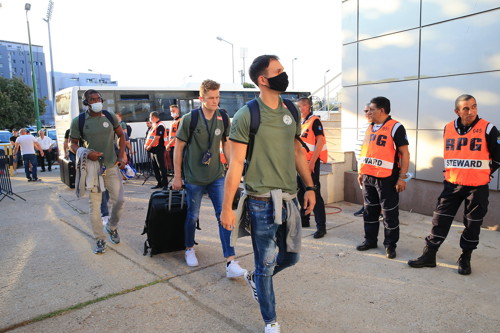 17:45
Talking about Kevin Møller: our EHF journalist Björn Pazen had the chance to speak with the Flensburg goalkeeper for an exclusive interview on the eve of the Match of the Week against Barça:
16:45
A MOTW means an episode of the EHF Champions League Breakfast for Champions series! Check out today's episode featuring Barça's Gonzalo Perez de Vargas and his former teammate now Flensburg keeper Kevin Møller here.  
16:35
After an exciting night to open round 1 of the EHF Champions League Men on Wednesday, we are all set for the action to continue as four more top clashes are coming your way! 
Here's what's coming up tonight: 
18:45 CEST: Veszprém vs PSG
18:45 CEST: Motor vs Porto
18:45 CEST: Dinamo vs Kielce
20:45 CEST: MOTW Flensburg vs Barça

Wednesday
23:15
That brings our coverage for tonight to an end. But no worries, we are back tomorrow with round 1 in group B, and, oh boy, do we have some great matches in prospect:
18:45 CEST: Veszprém vs PSG
18:45 CEST: Motor vs Porto
18:45 CEST: Dinamo vs Kielce
20:45 CEST: MOTW Flensburg vs Barça
See you tomorrow, same time, same place!
23:10
The first four games of the new season are done and dusted. Here are the best pictures:
22:59
Read how Aalborg defeated Zagreb by 10 goals in the last game of the season's opening day:

22:21
This is exactly the start to their season Aalborg were hoping for.
They needed about 25 minutes to get the better of Zagreb, but once they were on top, Aalborg were flying, led by Sebastian Barthold's nine from nine. A 10-goal away win is more than Stefan Madsen's team could have asked for tonight.
This match leaves a lot of question marks over Zagreb. While they showed clear improvement in the recent SEHA League, they kind of collapsed tonight after a decent start to the game. Ivica Obrvan's team found no answer when Aalborg stepped up a gear.
Aalborg have beaten Zagreb by 10 goals before, but never in Croatia. Their duels in Zagreb have always been close with one-goals wins... until tonight.
22:15 | RESULT
HC PPD Zagreb vs Aalborg Håndbold 24:34 (14:18)
22:11
Aalborg coach Stefan Madsen likes what he sees:
22:04
The drums from the Croatian fans in the stands have been silenced. Zagreb are more than 10 goals behind (!) against Aalborg with 10 minutes on the clock...

21:59
Read what happened in the first three matches of the 2021/22 season earlier tonight:
21:53
Looks like it is all going Aalborg's way tonight, despite this: 
21:31
Signing Ivan Cupic, Zagreb thought they had bought a right wing...:

21:26
Solid first half from the 2020/21 finalists. There was not much between them for 25 minutes, but a 4:1 run earns Aalborg a commanding lead over Zagreb at the break.
Sebastian Barthold leading the way for the guests with a flawless five from five.
21:21 | HALF-TIME
HC PPD Zagreb vs Aalborg Håndbold 14:18
21:08
This is the third season in a row that Zagreb and Aalborg are sharing a group in the EHF Champions League.
While both teams won their respective home game in 2019/20, Aalborg won both confrontations in 2020/21. However, the match in Zagreb, in September 2020, went to the wire and the eventual finalists came away with a narrow 27:26 win after trailing by three goals (15:12) at half-time.
21:04
The 2020/21 runners-up have opened their account:
20:35
In 10 minutes' time the last match of the 2021/22 opening night starts, as Zagreb host Aalborg.
An intriguing match-up. Zagreb had an EHF Champions League campaign to forget last season, losing each and every match. They have made a fresh start in the off-season and look ready for better times, with a new coach and a bunch of new players.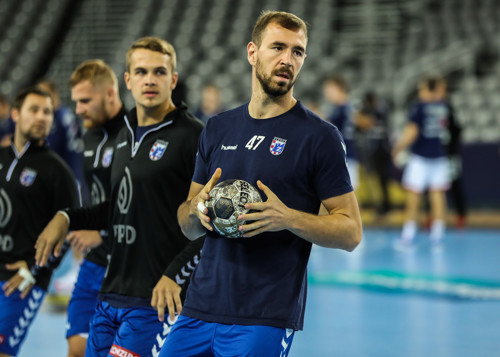 And Aalborg... wow, what a season they have had! The Danish adventure only ended in the final against Barça last June. The squad has seen some changes, most notably with the arrival of Aron Pálmarsson - but he is out injured for tonight's game. The question is whether Aalborg can cement their status as EHF FINAL4 contenders this season, starting tonight in Croatia.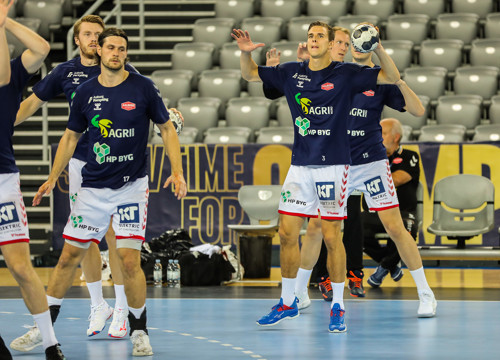 20:33
One point against Szeged is not what Montpellier coach Patrice Canayer hoped for:
We are very disappointed with the result, we were leading by three goals with four, five minutes to play. But probably over the whole match it was a fair result.

20:22
Wow, how fast did that go?! The first three matches of the new season are already over and 2020 champions Kiel are the only team of the six involved to grab two points.
Kiel led Brest by up to six goals (25:19) in the second half but the hosts did well to claw their way back into the game, reducing the deficit to just two (32:30) before Sander Sagosen hammered in the last goal to end any doubts about the final result.
Elsewhere, Elverum and Vardar share the points (27:27), just like they did when meeting just seven months ago in Skopje. And Montpellier and Szeged keep their perfect balance intact, adding a 29:29 draw to their already even head-to-head record.
Something tells me this group A could be really, really close when it comes to the fight for play-off tickets...
... but we will leave that for later, round 1 has just started!

20:19 | RESULTS
Elverum Handball vs HC Vardar 1961 27:27 (13:13)
Montpellier Handball vs Pick Szeged 29:29 (14:15)
HC Meshkov Brest vs THW Kiel 30:33 (15:18)
20:14
Brest have started to close the gap on Kiel - and saves like these certainly help:
20:09
Fair to say Niclas Ekberg is having a dream start into the new season. Already on 11 goals and counting for Kiel tonight...
20:04
With tonight's play in full swing, here is a quick sneak peak of the Match of the Week between Flensburg and Barça tomorrow:
19:53
New to Szeged, but not new to the EHF Champions League of course:
19:40
Just great to have EHF Champions League action back on a Wednesday night! Now let's see what happens in the second half.
The biggest half-time lead was for Kiel (18:15 in Brest) and EHF journalist Kevin Domas picked the German champions as the top team in the pre-season power ranking. 
You can read that power ranking story here.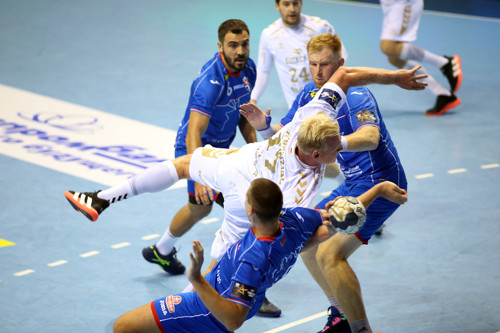 19:31
Just picking it up where he left it last season:

19:22 | HALF-TIME
Elverum Handball vs HC Vardar 1961 13:13
Montpellier Handball vs Pick Szeged 14:15
HC Meshkov Brest vs THW Kiel 15:18
19:08
First one of the season for the 2018 champions:
19:05
Halfway through the first half, all matches are close. Kiel (in Brest) and Szeged (in Montpellier) have a small lead, Elverum and Vardar are level.
Looking at the head-to-head stats, Kiel have won seven of their previous eight matches against Brest, but lost the last one - 33:30 in Brest in February 2020.
Montpellier and Szeged are completely level after 11 matches, with five wins each and one draw.
And Vardar and Elverum played each other as recent as in February 2021. With both matches taking place in Skopje, Vardar had one win and one draw in the teams' only two previous meetings.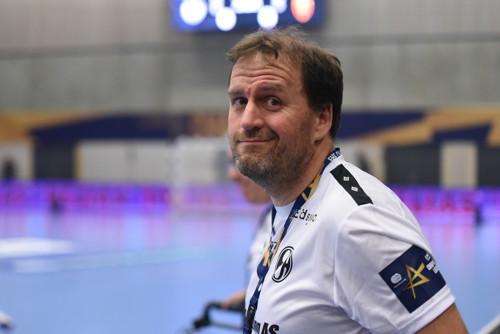 18:59
Nice one for a starter:
18:48
A quick reminder that you can watch all three games live at the same time on EHFTV. Open one match, then click on that rectangle icon (second to the right), and you can drag and drop more matches to your screen. Enjoy!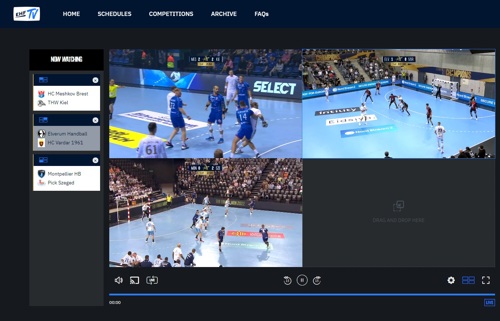 18:45
The party has started!
18:32
Completing the trio of matches with an 18:45 CEST throw-off time is Elverum vs Vardar. Both had a difficult 2020/21 season, crashing out in the play-offs with no chance to advance against eventual champions Barça and Veszprém, respectively.
A win for either team tonight would certainly boost hopes for a better season.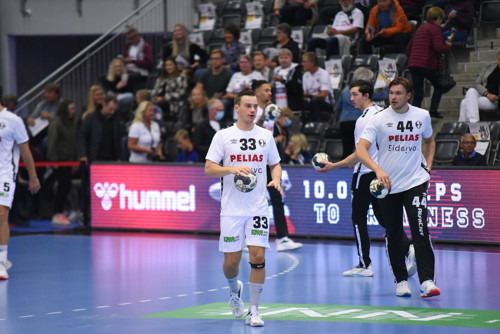 18:21
Also starting at 18:45 CEST is Brest vs Kiel.
The home team got a taste of what it is like to get deep into the EHF Champions League as they reached the quarter-final last season. With a new coach on the bench, can Meshkov take the next step this time?
And Kiel won the delayed the EHF FINAL4 2020 last December, but failed to make it to the 2021 edition in Cologne a few months later. Their squad is basically unchanged compared to last season, so you have to have them high on your pre-season list of favourites once again.
18:12
We start with three games at 18:45 CEST which all have their own appeal.
Look at Montpellier vs Szeged: the 2018 champions are returning after a year in the EHF European League and the French side, still led by evergreen coach Patrice Canayer, are eager to do well.
And the Hungarian side are coming off a European season to forget - but a great domestic campaign, as they beat Veszprém to the Hungarian title.
Who gets the better start in the new EHF Champions League season?
18:03
The clock is ticking and we have just over 40 minutes left before the new season starts in France, Belarus, and Norway.
Maybe you fancy taking our expert quiz in the meantime?!
17:58
The best way to get up to date on what is happening in round 1 is reading our preview with bullet-point style info on all eight games:
17:45
We all had to wait nearly 14 weeks for the EHF Champions League Men to break into action again... Well, tonight the wait is over as the season 2021/22 is just about to begin!
Welcome to the live blog for the opening round of the group phase. We are going to guide you through all eight matches on Wednesday and Thursday, which have been nicely spread over both days, with the group A action taking place tonight and the throw-off of group B happening tomorrow.
So this our schedule for tonight: