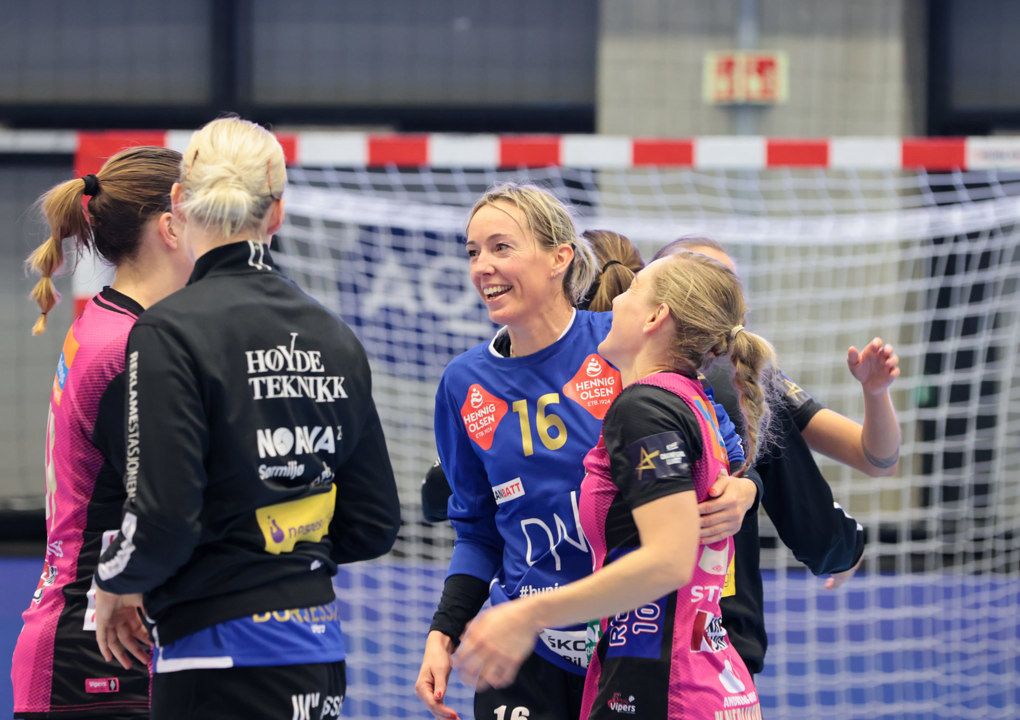 Fond memories of the EHF FINAL4 driving Lunde on
When Katrine Lunde made her debut in the EHF Champions League Women 2005/06 for Aalborg DH, her potential was through the roof, but few would have expected her to become one of the best goalkeepers ever.
While the Norwegian shot-stopper made the All-star Team in the EHF EURO three times – in 2008, 2010 and 2022 – she has been named best goalkeeper of the Champions League only once, in 2019.
Despite this, Lunde has truly marked the history of handball and the history of the EHF Champions League Women. In fact, if Vipers Kristiansand complete their three-peat and seal the title in the MVM Dome in Budapest on Sunday, Lunde will become the first ever player to seal the trophy seven times. She is currently tied with Ausra Fridrikas, Bojana Popovic and Nora Mørk for six wins.
"It might sound strange, but I am not in it necessarily for the records. Sure, to win the Champions League for the seventh time and become the record holder for titles sounds amazing and is something amazing. But I cannot say I set off for the season with this objective in mind," says Lunde.
"Vipers take the court in every game to win and of course we want to win the trophy, it would be something amazing. Now we are just two games away of making it three out of three in the last three years and we just want to have some good performances in Budapest."
This is the 18th season for Lunde in the EHF Champions League Women, which means she has a hit rate of 33.3 per cent, winning one title in every three participations so far. The first two came in 2009 and 2010, with Viborg HK, followed by two with Györi Audi ETO KC in 2013 and 2014, and two for Vipers in 2021 and 2022.
Lunde started playing handball for Vipers and rejoined the team in 2017, with an eye on retirement. But at 43 years old, Lunde is still going strong.
Only one goalkeeper – WHC Buducnost BEMAX's Armelle Attingré (182 saves) – has stopped more shots than Lunde this season. The Norwegian star boasts a 33.1 per cent save efficiency, with one game less than Attingré.
"What's the fondest memory from the EHF FINAL4? I will be honest, winning the first title with Vipers. Of course, all the finals that were won were amazing, the ones with Györ were also excellent, but there is this connection with the club, the one that I started handball at," says Lunde.
"Winning the Champions League with a Norwegian team was something excellent, something that I dreamt about, therefore it has to be right there, at the top."
For Lunde, this will be the fifth EHF FINAL4, with three previous wins in Budapest. She was named the MVP of the inaugural edition, when she helped Györ secure the trophy in the most lopsided final, 27:21 against Buducnost, where Lunde made 14 saves.
In such important competitions, goalkeepers are crucial and shot-stoppers have won five of the eight MVP titles awarded at the EHF FINAL4 so far. Will Lunde add another this year?
"You know, there is pressure on goalkeepers, but I would not say that there is more pressure than on other players. Sure, goalkeepers can turn the tide of a game and can be decisive, but I do not feel any more added pressure than I would have normally felt," adds the 43-year-old.
Over her career Lunde has picked up six EHF EURO titles, six Champions League titles, two Olympic titles and two World Championship titles, making her one of the most decorated players in the history of handball.
But not even a stalwart like Lunde can win it all. Are there any bad memories from the EHF FINAL4 for the Norwegian?
"I do not collect bad memories," answers Lunde with a big smile upon her face, always impressing through her sheer positivity and laser-focused mentality.
That mentality will surely be put to the test in Budapest over the next weekend, as Lunde's Vipers will try to become only the second team in history to secure three titles in a row in the European premium competition, after Györ managed it between 2017 and 2019.
"Obviously, it would be something amazing for us, to win the third time in a row and be the best team this year. It is clearly not easy, because we play against Györ and any game against them is very, very difficult. They surely want to avenge that loss from last year's final, so they will be very tough to beat in the semi-final.
"But if we want to win the title, we must beat the best teams. And, like always, we will get on the court to win," concludes Lunde.
Photos © Terje Refsnes; Uros Hocevar / kolektiff; Olivier Stephan