Summer blog: Last two semi-final tickets at stake at M20 EHF EURO
The Summer Blog on eurohandball.com guides you through all the action at the various Younger Age Category (YAC) and beach handball events taking place this summer.
Summer blog for Wednesday 13 July 
the main round concludes on Wednesday at the Men's 20 EHF EURO 2022
on Tuesday, Portugal and Serbia qualified for the semi-finals after beating Denmark and Sweden, respectively
on Wednesday, eight matches are scheduled, including four in the intermediate round for teams that did not qualify for the main round
main round schedule for Wednesday: Denmark vs Spain and Serbia vs France (18:00 CEST), Hungary vs Portugal and Germany vs Sweden (20:30 CEST)
all M20 EHF EURO 2022 matches are live on EHFTV
Wednesday 13 July 2022
17:30 
An important night at the M20 EHF EURO 2022 in Portugal coming up! This evening, the main round concludes and the two teams that join Portugal and Serbia into the semi-finals will be confirmed: the winners of Denmark vs Spain, and of Germany vs Sweden.
Here is the schedule, all matches are streamed live on EHFTV:
Have fun! Join us again tomorrow morning when we recap all of tonight's action on the Summer Blog.
17:07
Teams that haven't made the main round at the M20 EHF EURO want to finish ninth – the best possible result left. Four teams can finish ninth, as they have qualified for the 9/12 cross matches on Friday.
After Iceland and Faroe Islands secured their places earlier this afternoon, Slovenia and Italy have now been confirmed as well: Slovenia beat Norway 42:34 in a high-scoring match to top group I1, and Italy get the better of Montenegro 32:26 to lead group I2.
So, the 9/12 cross matches are Slovenia vs Iceland, and Faroe Islands vs Italy.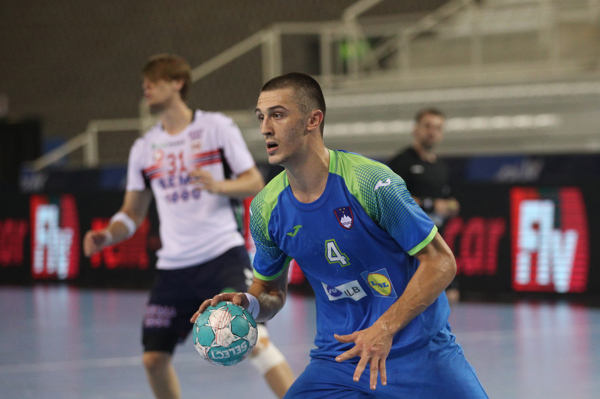 M20 EHF EURO 2022 intermediate round:
Group I1:
final standings: 1. Slovenia 6 points; 2. Faroe Islands 4; 3. Poland 2; 4. Norway 0
Group I2:
final standings: 1. Italy 5 points; 2. Iceland 4; 3. Croatia 3; 4. Montenegro 0

15:53
When you score just one goal in a match, make sure it is a memorable one. Just like Faroe Islands' Bjarni I Selvindi did against Poland this afternoon:
15:32
Big, big win for Iceland this afternoon: 33:20 against Croatia. This is what head coach Einar Andri Einarsson said right after the game:
We played with spirit, focused, excellent defence and goalkeeping, and also played the offence really well. We respect Croatia, one of the best handball countries in the world, so I am very happy with this victory.
15:07
Much to the delight of the home crowd, Portugal – who play Hungary at 20:30 CEST – are already through to the semi-finals of the M20 EHF EUO 2022. A lot of talk has been about the Mota da Costa brothers, but what about their goalkeeper, Diogo Rema Marques:
14:41
The most Northern nations at the M20 EHF EUO 2022 have opened Wednesday's play with clear wins in the intermediate round.
In group I1, Faroe Island beat Poland 38:32 to secure second place in the group and qualification for the 9/12 cross matches. Slovenia will win this group, regardless their result again Norway later this afternoon.
In group I2, Iceland took a crucial – and very commanding – win over Croatia (33:20), which sends them through to the 9/12 cross matches, as well. Italy can still win this group, if they beat Montenegro in the upcoming match.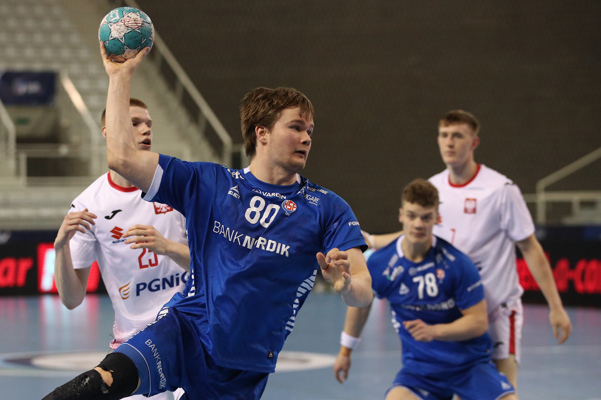 M20 EHF EURO 2022 intermediate round:
Group I1:
Group I2:

13:52
Faroe Islands keep impressing us! They lead Poland 19:11 at the break of their intermediate round match (live on EHFTV) this afternoon, after beating Norway 33:31 yesterday. The outstanding player was, once again, Elias Ellefsen á Skipagøtu:
12:37
Was this finish from Mateja Dodic for Serbia the best goal from Tuesday night's matches?
Sweden reduced the deficit to four goals with six minutes remaining, but Mateja Dodic struck twice in less than a minute to ensure that Serbia would not be caught.
12:07
In just under an hour, Iceland will face Croatia in this afternoon's first intermediate round match in Vila Nova de Gaia. After Croatia's 25:25 draw against Italy on Tuesday afternoon, Iceland will qualify for the 9-12 cross matches if they beat Croatia.
If Croatia – who currently have three points in group I2 – avoid defeat, they will still have the opportunity to finish as high as 9th at the end of the championship.
11:31
Some of the best photos of Tuesday's action can be viewed in a gallery below, but more pictures are available via our Home of Handball social media channels.
10:55
Serbia coach David Rasic's thoughts after his team's victory last night were similar to Portugal coach Carlos Martingo.
Rasic said: "We feel amazing — we already have four points. We were amazing from the first minute until the last, and Sweden has an amazing team. We are not finished; we came here to win all our games."
While Serbia and Portugal have qualified for the semi-finals of the M20 EHF EURO 2022, the final two places in the last four will be up for grabs this evening. Denmark vs Spain will decide which team joins Portugal in the semi-finals from group M1, while Germany vs Sweden will determine the second side to qualify from group M2.
Wednesday's schedule (all times CEST)
Intermediate round

Group I1
Iceland vs Croatia (13:00)
Italy vs Montenegro (15:30)
Group I2
Faroe Islands vs Poland (13:00)
Slovenia vs Norway (15:30)
Main round
Group M1
Denmark vs Spain (18:00)
Hungary vs Portugal (20:30)
Group M2
Serbia vs France (18:00)
Germany vs Sweden (20:30)
I am very thankful for this team and very proud. We played very good, our defence was super strong, and our counter attacks were better than theirs. Although they (Sweden) got close to us, we managed to secure the victory.









10:20
Good morning and welcome to Wednesday's edition of the summer blog. There is no better place to start this morning than recapping last night's action from the Men's 20 EHF EURO 2022 in Portugal, where the hosts and Serbia both qualified for the semi-finals with impressive victories in the main round against Denmark and Sweden, respectively.
Results
Group M1
Group M2
Portugal head coach Carlos Martingo was understandably pleased with his team's performance, after they conceded only 20 goals against Denmark, but he wants the hosts to beat Hungary this evening and finish the main round with their perfect record intact.
We are very happy and proud to make it through to the semi-finals, especially when we were fantastic in both defence and attack in the first half. Tomorrow, we have one game more to try to win.